Business Owner & Manager: Simon Forth
Address: Bruce Building, Sinclair Terrace, Wick. KW1 5AB        Telephone: 07816 – 544921
Wick Shop
Mondays ~ Fridays: 10:30 ~ 5:30pm. Sales of coffees by the bag (beans or ground) plus take away & sit-in drinks (lattes, cappuccinos, americanos, espresso shots, hot chocolates). 
Saturdays in the month
1st Saturday: Wick Farmers Market, Town Centre 9-3pm (Wick shop open 10:30pm – 5:30pm)
2nd Saturday: Cromarty Indoor Market, Victoria Hall, Cromarty, Black Isle (Wick shop open 10:30 – 3pm)
3rd Saturday: Wick Shop (open normal hours)
Last Saturday: Orkney Farmers Market, W. Castle Street, Kirkwall. 9-2pm. (Wick shop open 10:30 – 3pm)
Note: In the months having five Saturdays, the Wick shop will be open on the 4th Saturday as well.
Thurso Shop (within Lucy's Tailoring shop)
Address: 31 High St, Thurso. KW14 8AZ (opposite Nikel & Dime). Tel: 01847 – 895846
Trading Hours: Mondays ~ Saturdays: 9:00am ~ 5:00 pm (NB: in Thurso shop, sales of coffee by the bag only, no drinks)
Contact Us Form
Location Maps
Wick Shop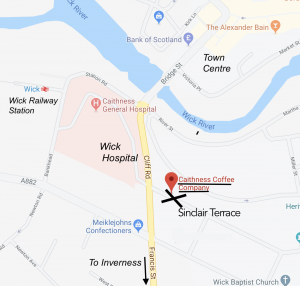 Thurso Shop